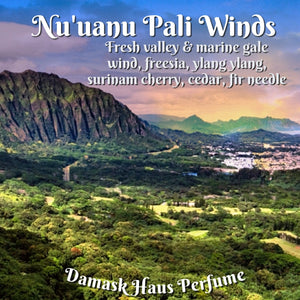 Nu'uanu Pali Winds
Regular price
$8.00
$0.00
Unit price
per
Nu'uanu Pali Winds -  The Nu'uanu Pali Lookout is both a historic landmark and incredibly scenic spot for panoramic views.  Perched over a thousand feet above the coastline amid mountain peaks shrouded by clouds, the stone terrace overlooks the areas of Kaneohe and Kailua, Mokolii.
The Pali Lookout is a site of deep historical significance. Named "Pali" meaning "cliff" in Hawaiian, the Pali Lookout is the site of the Battle of Nu'uanu, where in 1795 King Kamehameha I, won the struggle that finally united Oahu under his rule. This fierce battle claimed hundreds of soldiers' lives, many of which were forced off of the Pali's sheer cliffs.

The Pali Lookout is also known for its strong and howling winds. When the conditions are just right it is possible to literally lean against the wind!  This location is among best scenic points to feel the wind push up against you, hear the breeze whistle through the mountains and see the breathtaking views of the lush Windward Coast.
Notes:  Winds so strong and constant you can lean against them: Fresh wind from the valley below & marine gales from the coast, freesia, ylang ylang, surinam cherry, fir needle, cedar.
Our standard roller perfume oils are packaged in 5 mL or 10 mL roll-on bottles for easy application and portability.  Our EDP extraits are packaged in glass atomizer spray bottles. 

Each order receives free random samples.
The Damask Haus process:
Our perfumes are handcrafted and made in small batches with premium ingredients. Each item is made to order to maximize freshness and quality. Each unique perfume is composed of hand blended fragrance notes and may contain essential oils, aroma-molecules, naturals, absolutes and/or co² extracts.
Our oils are designed to leave your skin moisturized and beautifully scented. The unscented carrier oil is absorbed into the skin leaving only the essence of the scent behind to be enjoyed for hours.  Perfume oils differ from most brand name perfumes because they lack chemicals (fixatives/stabilizers) and alcohol typically found in store bought bottles. These oil scents often last longer and remain closer to the wearer as opposed to alcohol based perfumes that have more throw.

Oil Perfume Ingredients: caprylic/capric triglyceride (fractionated coconut oil), essential oils, aroma-molecules, naturals, absolutes and/or co² extracts. Vegan, Paraben-free / Phthalate-free
EDP Extrait Perfume Ingredients: SDA 40B (perfumer's alcohol), essential oils, aroma-molecules, naturals, absolutes and/or co² extracts. Vegan, Paraben-free / Phthalate-free
---
Share this Product
---