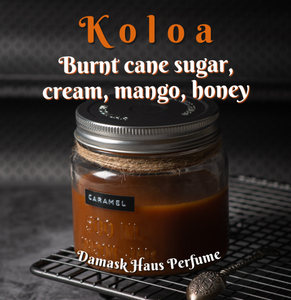 Koloa
Regular price
$8.00
$0.00
Unit price
per
Koloa – Salted Mango Caramels made from scratch with cane sugar from Koloa's long forgotten sugar plantation, cream from a local dairy farm and mangos picked from your neighbor's tree.  Shhhh!  They won't notice, we promise. 
Notes:  This sexy dessert of a scent is an elegant swirl of deep, luscious burnt cane sugar combined with full-bodied cream and juicy, dripping mango covered in sticky-sweet honey.   
Our standard roller perfume oils are packaged in 5 mL or 10 mL roll-on bottles for for easy application and portability.  Our EDP extraits are packaged in glass atomizer spray bottles. 
Each order receives free random samples.
The Damask Haus process:
Our perfumes are handcrafted and made in small batches with premium ingredients. Each item is made to order to maximize freshness and quality. Each unique perfume is composed of hand blended fragrance notes and may contain essential oils, aroma-molecules, naturals, absolutes and/or co² extracts.
Our oils are designed to leave your skin moisturized and beautifully scented. The unscented carrier oil is absorbed into the skin leaving only the essence of the scent behind to be enjoyed for hours.  Perfume oils differ from most brand name perfumes because they lack chemicals (fixatives/stabilizers) and alcohol typically found in store bought bottles. These oil scents often last longer and remain closer to the wearer as opposed to alcohol based perfumes that have more throw.

Oil Perfume Ingredients: caprylic/capric triglyceride (fractionated coconut oil), essential oils, aroma-molecules, naturals, absolutes and/or co² extracts. Vegan, Paraben-free / Phthalate-free
EDP Extrait Perfume Ingredients: SDA 40B (perfumer's alcohol), essential oils, aroma-molecules, naturals, absolutes and/or co² extracts. Vegan, Paraben-free / Phthalate-free
---
Share this Product
Perfect scent for the fall and winter!
I'd never shopped at Damask Haus before, but after seeing a video online, I ordered a small perfume oil to sample this scent. It is such a rich and strong burnt sugar mango smell, so perfect for the upcoming fall. Damask Haus was even so kind as to include an extra scent I did not order called The Invisible. Smells so nice, similar to Glossier You, but so much more long-lasting. Please get this scent, and try out their other ones like Milk Shaka as well!
salted caramel mangos
koloa is gorgeous!! it smells like salted caramel mangos. it's creamy, sweet, but complex. this is a gourmand mango that is very like able and perfect for year round wear! this also lasts 10+ hours on me. i've put it on before i sleep, and we'll into the next day id still get whiffs of it on myself!
Wowzers!!!
First of all, I love gourmand fragrances (I'm a foodie, so it makes sense), and I own several of them. So when my fellow fraghead, Tammie, posted Kaola on her Instagram page. I just had to purchase it. The composition is quite irresistible. It's sweet, but not too cloying. Mango is one of my favorite fruits, and just love the way it pairs well the other notes. And it's beast mode plus on my skin. It's last up to at least twelve hours. Truth of the matter: Koloa is definitely the best blind buys for me... as far as fragrance purchases go.
Give it a try. You won't be disappointed. Aloha!
---