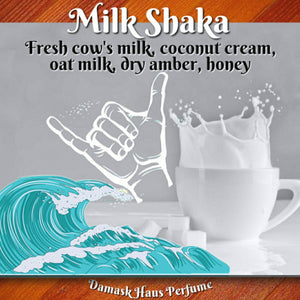 Milk Shaka
Regular price
$8.00
$0.00
Unit price
per
Milk Shaka -  Hawaii's symbol of aloha traces its roots back to the early 1900s.  "Hang loose," "Right on," "Thank you," "Things are great," "Take it easy!"  In Hawaii, the shaka sign expresses all those friendly messages and more.  Gesturing the shaka is used to express friendship, gratitude, goodwill, encouragement and unity. A little wave of the hand spreads a lot of aloha.  Our Milk Shaka perfume is both milky and sensual, but not a typical gourmand though it does have some sweetness.
Notes:  Fresh cow's milk, coconut cream, oat milk, honey, light dry amber.
Our standard roller perfume oils are packaged in 5 mL or 10 mL roll-on bottles for easy application and portability.  Our EDP extraits are packaged in glass atomizer spray bottles. 

Each order receives free random samples.
The Damask Haus process:
Our perfumes are handcrafted and made in small batches with premium ingredients. Each item is made to order to maximize freshness and quality. Each unique perfume is composed of hand blended fragrance notes and may contain essential oils, aroma-molecules, naturals, absolutes and/or co² extracts.
Our oils are designed to leave your skin moisturized and beautifully scented. The unscented carrier oil is absorbed into the skin leaving only the essence of the scent behind to be enjoyed for hours.  Perfume oils differ from most brand name perfumes because they lack chemicals (fixatives/stabilizers) and alcohol typically found in store bought bottles. These oil scents often last longer and remain closer to the wearer as opposed to alcohol based perfumes that have more throw.

Oil Perfume Ingredients: caprylic/capric triglyceride (fractionated coconut oil), essential oils, aroma-molecules, naturals, absolutes and/or co² extracts. Vegan, Paraben-free / Phthalate-free
EDP Extrait Perfume Ingredients: SDA 40B (perfumer's alcohol), essential oils, aroma-molecules, naturals, absolutes and/or co² extracts. Vegan, Paraben-free / Phthalate-free
---
Share this Product
Creamy, nutty gourmand delight
Really love this. I get creamy coconut milk with a dash of amaretto and whipped cream :) Sweeter than I was expecting, but really well rounded. Cozy like a cup of warm milk and honey before bed, and dries down to a nutty ambery cookie. Yummy especially when layered with something spicy! Can't wait to try some other milky fragrances from this house as the quality and lasting power is amazing for a niche house, so impressed all the way from Australia :)
---