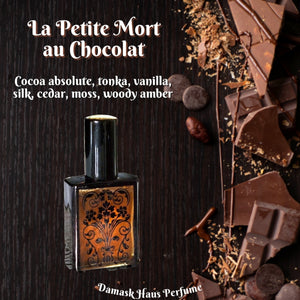 La Petite Mort au Chocolat
Regular price
$8.00
$0.00
Unit price
per
La Petite Mort au Chocolat - If Chocolat (the movie) had a scent, this would be it! Rich cocoa absolute unites simple creamy vanilla and the complex (tobacco vanilla almond) gourmand essence of tonka with a slide of silk across hard aromatic cedar, warm moss, and resinous, honey-rich wood amber.
Due to the high concentration of cocoa absolute in this perfume it is only available in EDP alcohol form. Cocoa absolute will separate if added to oil so it's performance and appearance would be diminished. Samples sizes for this scent are available and will be in an alcohol base.
Our standard roller perfume oils are packaged in 5 mL or 10 mL roll-on bottles for easy application and portability. Our EDP extraits are packaged in glass atomizer spray bottles. 
Each order receives free random samples.
The Damask Haus process:
Our perfumes are handcrafted and made in small batches with premium ingredients. Each item is made to order to maximize freshness and quality. Each unique perfume is composed of hand blended fragrance notes and may contain essential oils, aroma-molecules, naturals, absolutes and/or co² extracts.
Our oils are designed to leave your skin moisturized and beautifully scented. The unscented carrier oil is absorbed into the skin leaving only the essence of the scent behind to be enjoyed for hours. Perfume oils differ from most brand name perfumes because they lack chemicals (fixatives/stabilizers) and alcohol typically found in store bought bottles. These oil scents often last longer and remain closer to the wearer as opposed to alcohol based perfumes that have more throw.
Oil Perfume Ingredients: caprylic/capric triglyceride (fractionated coconut oil), essential oils, aroma-molecules, naturals, absolutes and/or co² extracts. Vegan, Paraben-free / Phthalate-free
EDP Extrait Perfume Ingredients: SDA 40B (perfumer's alcohol), essential oils, aroma-molecules, naturals, absolutes and/or co² extracts. Vegan, Paraben-free / Phthalate-free
---
Share this Product
My advice - Just buy the biggest bottle
A rant about Le Petit Morte au Chocolat
Even if you never thought you wanted to smell like warm sexy intoxicating chocolate I promise you - you do.
Never did I think I'd feel this way about a fragrance. It's my favorite scent ever. It showed up today and I immediately put it on forgoing all the others that I received. I love the pretty little bottle it came in but I'm thinking it's going to have to be 1oz bottles from here on out.
I'm half tempted to put some on a cotton ball and hang it in front of the heater vent to make the house smell as amazing and awesome as I do right now...
The perfect chocolate perfume!
If you want to smell like straight up chocolate, this is the perfume for you. Definitely make sure to test this on your skin before making your judgments! On paper, the chocolate fades fast and you get more of the cedar and moss. However, on my skin, the opening smells like some luxurious, boujee chocolate, but as it dries down it smells more like a Hershey's chocolate bar. This lasts a good 6-7 hours on my skin and has moderate projection.
Absolute 5 star product
This is my absolute favorite fragrance to wear!
---