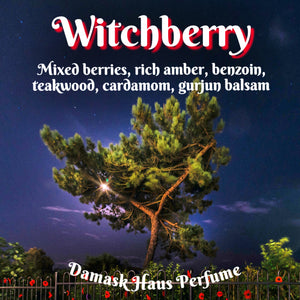 Witchberry
Regular price
$8.00
$0.00
Unit price
per
Witchberry - In a forgotten wood, at the edge of a haunted town grows a single tree. This ageless tree is tall and twisty with weathered bark, reaching to the night sky with silvered branches. A wind whipping through the leaves bringing with it a whisper of spices. Gleaming at the crown of the tree, where the moonlight caresses the leaves, you spot a handful of deep red berries - the magic of an October night harvest in sweet, spicy, resinous delicious form. This is an intoxicating scent elixir best enjoyed in the evening, by candlelight. Tablecloth optional.
Notes: harvested mixed red berries, rich amber, benzoin, teakwood, cardamom, gurjun balsam
Each order receives free random samples.
The Damask Haus process:
Our perfumes are handcrafted and made in small batches with premium ingredients. Each item is made to order to maximize freshness and quality. Each unique perfume is composed of hand blended fragrance notes and may contain essential oils, aroma-molecules, naturals, absolutes and/or co² extracts.
Our oils are designed to leave your skin moisturized and beautifully scented. The unscented carrier oil is absorbed into the skin leaving only the essence of the scent behind to be enjoyed for hours.  Perfume oils differ from most brand name perfumes because they lack chemicals (fixatives/stabilizers) and alcohol typically found in store bought bottles. These oil scents often last longer and remain closer to the wearer as opposed to alcohol based perfumes that have more throw.

Oil Perfume Ingredients: caprylic/capric triglyceride (fractionated coconut oil), essential oils, aroma-molecules, naturals, absolutes and/or co² extracts. Vegan, Paraben-free / Phthalate-free
EDP Extrait Perfume Ingredients: SDA 40B (perfumer's alcohol), essential oils, aroma-molecules, naturals, absolutes and/or co² extracts. Vegan, Paraben-free / Phthalate-free
---
Share this Product
---