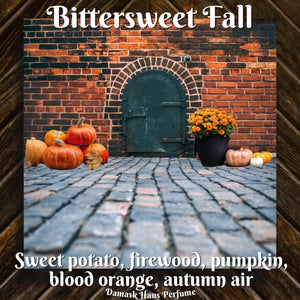 Bittersweet Fall
Regular price
$8.00
$0.00
Unit price
per
Bittersweet Fall- You walk along a path of crunching leaves exploding with autumnal glory and realize - the color of fall is…. orange. Not the sweet bright citrus fruit. No, the orange of those rich deep pods clustered on that climbing vine. You've seen them on your walk and they always put you in the mood for all those things you (weirdly) love about fall: sweet potato pie, bonfires burning bright in the night, pumpkin ravioli. Somehow seeing those gorgeous bittersweet pods just captures the energy of autumn for you. 
Notes: Sweet potato, firewood, pumpkin, blood orange, autumn air.

Each order receives free random samples.
The Damask Haus process:
Our perfumes are handcrafted and made in small batches with premium ingredients. Each item is made to order to maximize freshness and quality. Each unique perfume is composed of hand blended fragrance notes and may contain essential oils, aroma-molecules, naturals, absolutes and/or co² extracts.
Our oils are designed to leave your skin moisturized and beautifully scented. The unscented carrier oil is absorbed into the skin leaving only the essence of the scent behind to be enjoyed for hours.  Perfume oils differ from most brand name perfumes because they lack chemicals (fixatives/stabilizers) and alcohol typically found in store bought bottles. These oil scents often last longer and remain closer to the wearer as opposed to alcohol based perfumes that have more throw.

Oil Perfume Ingredients: caprylic/capric triglyceride (fractionated coconut oil), essential oils, aroma-molecules, naturals, absolutes and/or co² extracts. Vegan, Paraben-free / Phthalate-free
EDP Extrait Perfume Ingredients: SDA 40B (perfumer's alcohol), essential oils, aroma-molecules, naturals, absolutes and/or co² extracts. Vegan, Paraben-free / Phthalate-free
---
Share this Product
---